What is a data feed? A data feed is a special file which contains details of your products which you can then submit to services so that they can display and show your products on their networks. We typically work with XML feeds which we submit to Google (occasionally spreadsheet).
We currently only work with data feeds for the Google shopping network. If you don't know what Google shopping is, the following image might help: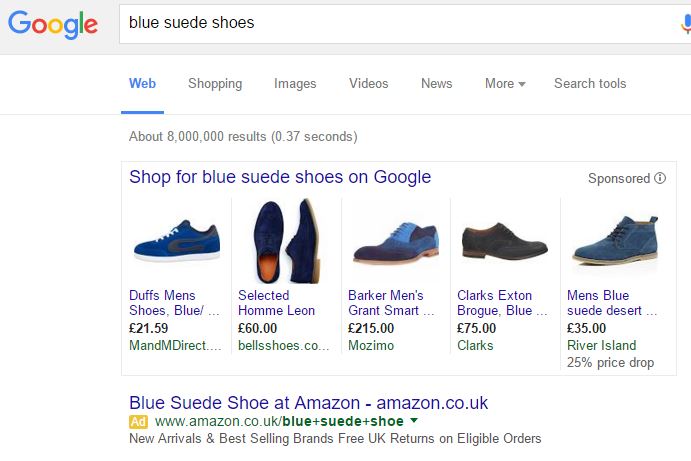 If you were looking for "blue suede shoes" on Google, you will see products being displayed with prices. Would you like your products to be displayed in the Google shopping network? Our statistics show that Google Shopping provides a great ROI. Getting your products listed on Google Shopping should be straight forward but its does require technical knowledge.
Does your shopping cart software support product feeds and can this be produced. Do you know what to look out for? Your feed will likely need additional tweaks to make it compatible with Google? This will involve inserting your products into the correct shopping category using the Google product taxonomy (opens in new window) list among other things.
How it works
We'll look at your shopping software and advise the best set up to start creating your feed. We will then view your Google merchant account (or set you up with one) and submit the feed correctly. Your Google Adwords account will then need configuring to start pulling in data from the feed so we can create a campaign. From there on, we'll then work together to structure the campaign to generate more sales and profits.
All of the above may seem simple to understand which it is, but it can be difficult for beginners that don't have the experience or time to implement it. It has taken us hundreds of trial and error to configure shopping cart website to work well with Google shopping and now we're ready to offer our expertise in this. We can assist you in doing this.
Call us today to take advantage of Google Shopping and make more sales.